Application deadline date has been passed for this Job.
This job has been Expired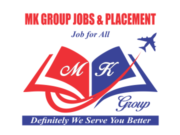 HR RECRUITER MK GROUP
Post Date:

July 21, 2021

Applications

1

Views

147
Job Overview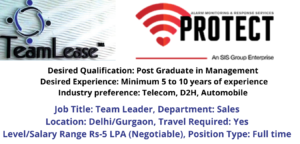 Job Title:
Team Leader-
Department
Sales
Location:
Delhi/Gurgaon
Travel Required:
Yes
Level/Salary Range:
Negotiable
Position Type:
Full time
Reporting to:
Hub Head
Job Description:
1.       Complete ownership of the sales target, strategy and eventually generating revenue for the organization. In charge of developing weekly/monthly/annual and seasonal sales targets for the department. Prepare monthly, quarterly and annual sales forecasts.

2.       Work on to complete/Achieve team target and their individual target as well

3.       Will do the field activity like Door to Door Visit in assigned area and will motivate the team as well for the same

Team Management: Solid experience in people management: Have handled teams at all levels (Executive).
Strong B2C knowledge for the area of Delhi NCR especially Gurgaon and Delhi. Assess the competitive landscape and institute changes to the sales program
Proven experience as a sales executive/manager meeting or exceeding targets.
Experience in managing direct sales teams working in fields, in the B2C area. Well versed with the challenges of direct selling in the residential and small office market
Should bring in a whole lot of repository of connections and acquaintances made in the Delhi NCR region
Create relationships with B2C partners, RWAs eventually turning them into alliances and influencers
To spend a significant portion of time in the field both with individual accounts and co-traveling with sales personnel.
To understand and effectively communicate the company's value proposition, technology, processes and methodology.
Out of office activities: Required to conduct BTL (Below the Line) activities using the internal Sales consultants and lead generators.
Measure, optimize and improve the door knocking activity happening in various pockets of the region. Short 2 hourly targets to the lead generators of knocking doors and generating appointments.
| | |
| --- | --- |
| Desired Qualification: | Post Graduate in Management |
| Desired Experience: | Minimum 5 to 10 years of experience. |
| Industry preference: | Telecom, D2H, Automobile |
Note: for Applying this Job Applicant Need to have Subscription of Silver Apply Job Package.