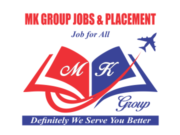 HR RECRUITER MK GROUP
Post Date:

October 12, 2022

Apply Before:

October 1, 2025

Applications

11

Views

112
Job Overview
We are hiring Telecom Engineer & Technician on-roll to MK GROUP OF COMPANY
Job Locations: Mumbai, Pune, Kolkata, Chennai, Bengaluru, Ahmedabad, Jaipur & Delhi.
Project : Ericsson – Jio 5G Roll-Out
Qualification Engineer: DIP/GRADUATION/BE/BCA/B.TECH.
Qualification Technician: 12th/ITI/UG/BA
Responsibility
The work involves installing/Dismantling, configuring and later integrating new 3G/4G/LTE/5G Mobile Cellular site/equipment (as well as de-commissioning and removing old equipment from the site). You will be part of a growing team, coordinate tasks with integration engineers, and perform related tasks.
A qualified candidate who can work on telecommunications sites (ie, MW/RF/BTS/radio Equipment installation, Commissioning, Integration, telco, light electrical, etc). Experience with Installation, commissioning and integration of Telecom equipment. Must have experience with MW/BTS Equipment. Experience with Air scale modules and radios Commissioning & Integration of UMTS, GSM & LTE radio technologies. Installations Circuit Breakers, GPS Kit, LAN Connections, CPRI Fibers, Understanding of IP and Routing of cables, Mounting/unmounting of cabinet, racks and hardware. Experience with using a RAN Theory and application related to project management, radio access networks, backhaul to sites signaling, disaster recovery planning and response, data services and location-based services.
Engineer Salary Rs-25k
Technician Salary Rs-20k
Interested Candidates with OHS Certificate (FARM TOCLI) can share Resume to us via Email to: hr@mkgroupitsolution.com with Subject line Position Name & Prefer Job Location for further Evaluation & Process of Assessment.
Note: Fresher Candidate without FARM TOCLI can also Apply if you can afford OHS Training & Certification Cost