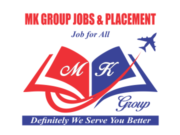 HR RECRUITER MK GROUP
Post Date:

February 19, 2021

Apply Before:

February 1, 2025

Applications

1

Views

148
Job Overview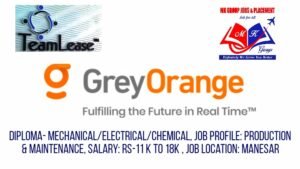 MK Group Jobs Hiring for Grey Orange India Ltd, Gurgaon, India
Job Description: Diploma Mechanical/Electrical & Chemical Trainee Engineer, for Production & Maintenance
Job Title: Diploma Engineer Trainee
Salary Package: 14000 to 20000/- Including OT
Facilities: Uniform, Local Transport & Canteen free
Job location: IMT Manesar, Gurgaon, Haryana
Educational Qualifications: Diploma- Mechanical, Electrical & Chemical (Pass-out 2017 to 2020)
Age Limit: 18 to 30 years
Selection Process: Telephonic & Personal Interview
Work Experience : 0-2Years
Role summary:
Technical & Non-Technical Production associate, Work in Production, Maintenance, Dispatch to produce as per plan, Meet production requirements as per plan for work station/s, Maintain and exceed the quality requirements, Handle problems related to production, work and get hands on experience of all the operations & Running all types of machines
Job Responsibilities:
Assisting Head of Operations to plan and build the operations strategy in line with stakeholder needs and in keeping up with current best practice in the field of changing operational requirement, with current best practice in the field of changing operational requirements.
About Company
GreyOrange is leading the new era of Deepthink distribution—advanced AI decision science, machine learning and real time analytics that contemplate, correlate, and drive deeper data, dynamic decisions and demand-driven delivery to meet the challenges of modern commerce.
Deepthink technology activates the GreyOrange Fullfilment Operating System (FOS) with 360° awareness and holistic real time orchestration through the integrated performance of GreyMatter AI software and Ranger intelligent robots.
Advanced algorithmic enable the GO System to automatically analyze and instantaneously model data, performance and events to optimize and execute every next best decision in real time—orchestrating directives and workstreams between people, robots, and processes while also factoring in ecosystems beyond the walls of the warehouse.
Note: for Apply this Job Candidate Need to Purchase Silver Apply Job Package