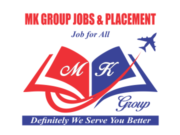 HR RECRUITER MK GROUP
Post Date:

March 15, 2023

Apply Before:

February 15, 2029

Applications

0

Views

52
Job Overview
One of our Business unit MK GROUP IT SOLUTION is a leader in wireless mobility networks and associated services. With more than 500 families essential for 5G we have a strong 5G portfolio and are a front runner in open and virtualized radio access networks (O-RAN and vRAN).
Position Name: Telecom Implementation Project Team Co-Ordinator.
Job Roles & Responsibility:
1) End to End responsibility of bringing the site On Air after the site is ready for Installation and handed over.
2) Planning and forecasting the resources(Team Leader, Technician & Rigger) required from the Engineering pool for completing the RAN Installation & commissioning project.
3) Responsible for spearheading the DT capacity planning and implementation in consultation with RF planning manager.
4) Supports the Project team to prepare and update Roll-out schedule based on the site civil works completion schedule.
5) Coordinating with Ericsson for Network Planning, Transmission planning and Partner Teams for supply of necessary information for Site Implementation.
6) Responsible to ensure that the project site process is in place to enable speedy delivery.
7) Responsible to ensure Material planning for site delivery in place. Ordering done on Monthly/weekly basis with help of installation planner/Logistic coordinator. Tracking material ordering, delivery to WH and sites. Coordinate with Logistic coordinator, Ware House Coordinator and Ancillary Vendors (need basis)
8) Responsible for Managing Telecom Implementation Partners as per site RFI ( Site Ready for Installation ) plan. Doing day-to-day planning and monitoring of Partner Teams.
9) Responsible for following up Telecom Implementation partner performance and provide feedback to Partner Manager for site. Follow up with Telecom Implement subcons to clear site punch list and ensure smooth handover of site from Projects to operations.
10) Coordinating with Cost & Progress Manager/ Partner Manager on Vendor Purchase Orders and payments.
11) Responsible for coordinating with customer on site acquisition related issues.
12) Interface with Project Infrastructure Team Lead for Site Readiness/Takeover for Telecom Implementation. Follow-up and clear punch list of site infrastructure related points by the cluster supervisor/ Project team lead.
13) Coordinate with Warehouse supervisor on Warehouse inventory status and proactively highlight shortages of Telecom material, if any, based on project schedule.
14) Ensure the completion/ handover of site documentation by the subcon team.
15) Keep track of the extra work done by the subcontractor and approve Acceptance certificate for work completed.
16) Nokia Project Management processes, manage Project Management Plans and project phase plans for the projects.
17) Anticipate risk and evaluate related financial and customer satisfaction impacts.
18) Respond to scope creep by immediately escalating modifications to the project scope.
19) Acts as the key customer interface to the Customer for all project related business extension.
20) Obtain customer sign-off of completed deliverables and formal customer acceptance of project completion.
21) Drive internal project reviews and ensure project close out, invoicing and lessons learned are completed.
22) Solid negotiation, communication, customer interfacing both internal and external, organizational and leadership skills.
23) Business acumen in planning and organizing, information integration, decision-making and ability to achieve results while focusing on customer requirements and business success.
Qualifications & Experience:
Excellent verbal and written communication skills, problem solving skills, and attention to detail
Ability to prioritize and multi-task
Expertise in Microsoft Office Suite
Engineering DIP or Degree
Must have at least 2 Years of Work Experience as Project Team Co-Ordinator in any Telecom Implementation Vendor Company
Perks & Benefits:
Salary CTC up to Rs- 3.5 LPA + Variables