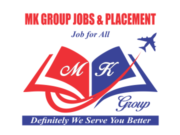 HR RECRUITER MK GROUP
Post Date:

September 21, 2022

Apply Before:

August 21, 2025

Applications

2

Views

72
Job Overview
Telecom Project Manager(Jio & Airtel-5G for Ericsson & Nokia Project)
Hiring for MK GROUP IT SOLUTION a unit of MK GROUP OF COMPANY
Follow through end-to-end project life cycle from Team planning, Team development, training & Certification, and deployment for Ericsson & Nokia 5G telecom Project for Jio & Airtel. Managed commercial and residential telecom LOS Survey MW & BTS installations etc. Responsible for project scope, schedule, and cost control.
Ensured successful and timely installations.
Developed personnel policies and procedures.
Improved cost control by eliminating needless expenses.
Recruitment, training & Certification for installation team
Corrects mission critical utility infrastructure problems effectively at optimal costs and in a timely manner
Ensuring necessary co-ordination on certification and field level testing, as appropriate for the business segment
Coordination with the Technical teams for new enhancements/issue resolution
Drives initiatives, industrialization, and efficiencies to facilities for improvements (ie enhancements, updates, upgrades, new systems)
Establishes tools and procedures to monitor field operations performance
Provide manpower technical resource support for internal customers during Project Implementation and Delivery
Maintains critical power and environment quality standards to achieve optimal levels of operation
Tracks and monitors the environment performance to ensure minimal interruption to network transmission and/or network switches
Ensuring OHS compliance with all regulatory stipulations within the region.
To lead, drive and monitor all maintenance and cost savings activities related to facilities including facility maintenance and thereby ensuring sufficient focus on optimizing cost of facility infrastructure while maintaining reliability, both in terms of operations and capital investments
Has enough knowledge within Telecom Network Operations and Maintenance to allow them to apply their knowledge efficiently and work productively with broad instruction.
Regularly participates in important projects or activities as a full contributing team member, is able to proactively identify important issues or risks, seeks the appropriate level of guidance and advice to ensure delivery of quality outcomes.
Operational role which is responsible for delivering results that have direct impact on the achievement of results within Telecom Network Operations and Maintenance.
Works under direct supervision. Able to identify problems and provide inputs to improve, change or adapt existing methods and techniques drawing from personal experiences and feedback.
Actively acquires more complex skills, techniques, operating practices, knowledge of abstract concepts in order to progress toward full proficiency in the field of specialization.
Has skills and knowledge that will allow them to adapt to effectively deal with unfamiliar issues, challenges, problems within their field of specialization.
Education:
Engineering Graduate/Diploma Electronics Communication
Role: Network Manager / Administrator
Industry Type: Telecom / Wireless
Salary : up to Rs-5 LPA