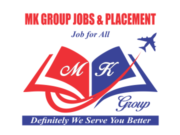 HR RECRUITER MK GROUP
Post Date:

September 13, 2022

Apply Before:

August 13, 2025

Applications

2

Views

74
Job Overview
We are Hiring Telecom Network Engineer & Technician for MK GROUP IT SOLUTION a unit of MK GROUP OF COMPANY for various Telecom Project Across Pan India.
Job Description
The work involves installing/Dismantling, configuring and later integrating new 3G/4G/LTE/5G Mobile Cellular site/equipment of Ericsson (as well as de-commissioning and removing old equipment from the site). You will be part of a growing team, coordinate tasks with integration engineers, and perform related tasks.
A qualified candidate will have 1-2 or more years' experience with working at telecommunications sites (ie, BTS/radio Equipment installation, Commissioning, Integration, fiber, telco, light electrical, etc). Experience with Installation, commissioning and integration of ERICSSON equipment. Must have experience with ERICSSON BTS. Experience with Air scale modules and radios Commissioning & Integration of UMTS, GSM & LTE radio technologies. Installations Circuit Breakers, GPS Kit, LAN Connections, CPRI Fibers, Understanding of IP and Routing of cables, Mounting/unmounting of cabinet, racks and hardware. Experience with using a Fiber scope Theory and application related to project management, radio access networks, backhaul to sites signaling, disaster recovery planning and response, data services and location-based services.
Excellent computer skills
Specific Requirements:
Please contact us if you have a Valid FARM TOCLI and have experience of Installation/ removal or installation of ERICSSON equipment – and especially if that work involved installation and/or commissioning of ERICSSON equipment.
We also expect that you have your own Driving License/vehicle, a basic set of tools for work on wireless sites, laptop, cell phone, and ability to work outside
Qualifications:
Associates Degree in Electronics and Communication Engineering or related field preferred. High School diploma and minimum equivalent related experience of 1 year will be considered.
Certifications Skills/Requirements:
Ability to represent company with professionalism.
Ability to work within daytime as scheduled based on project scope and adhere reliably to schedule.
Ability to travel within a region, market or out of market on a project basis. Comfortable working outdoors in all types of weather throughout the year.
Ability to use technical skills to work independently and within a team and execute responsibilities as well as solve problems. Ability to lift 50 lbs and climb a 12 ft ladder.
Computer and MS Office Proficient,
Candidates having Valid driver's license & with Basic Hand Tools will be considered.
Salary: up to 4LPA(No bar for Desire Candidate)
Additional Information
MK GROUP OF COMPANY is an equal opportunity employer we prohibits discrimination and harassment of any type and affords equal employment opportunities to employees and applicants without regard to race, color, religion, sex, national origin, age, disability or genetic information.
Thank you & Good Luck